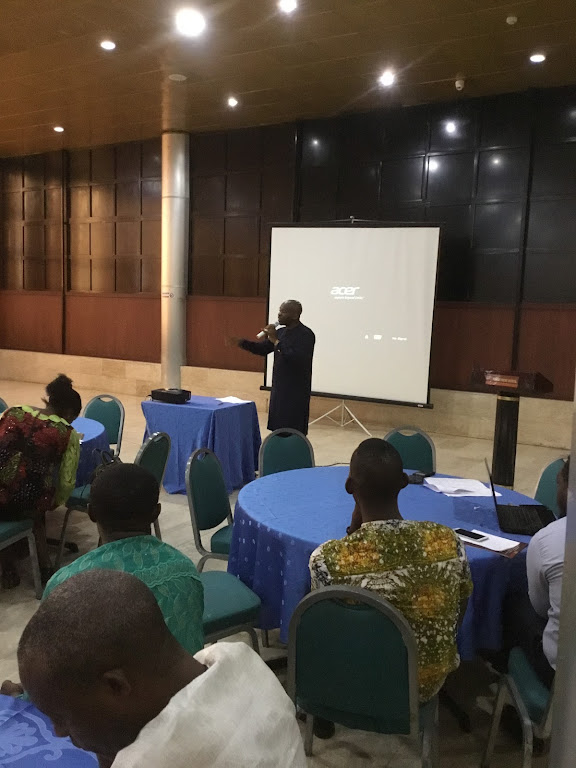 Do not turn down that sales job!!
Do not turn down that sales job!!
In my short time in the recruitment practice in
Nigeria, I have observed that one of the most difficult positions to fill is
the sales or marketing position vacancy.
This is an issue that cuts across most industries, so
it is not limited to any sector or level. It is even much easier to fill
executive or technical positions than it is to get a competent and suitable
candidate for sales-based positions.
This assertion above may sound incredulous especially
when one considers the fact that this occurs in an economy most have described
as being afflicted by recession and a high unemployment rate. The reality is
that most applicants avoid vacant sales positions like a plague.
It is a problem because in such an economy that is
under so much burden, the emancipation of small businesses is crucial. These
businesses are unable to afford cost intensive advertising rates and one of the
cheapest mediums available for selling their products and services are
salesmen. Also, for those of them that want to venture into their own
businesses, the knowledge and the capacity to sell is a non-negotiable quality.
Today, if you ask most young school leavers about
their career dreams, they will tell you that they intend to work for a while,
after which they hope to start up their own businesses. Everyone wants to
become like Amancio Ortega, Steve Jobs, Bill Gates or Aliko Dangote yet not
many are willing to pay the price to get to that height.
Take a closer look at some of these successful
entrepreneurs, most of them are good sales men and even those who may not be in
front lines doing the actual selling, these have developed strategies that
enable them reach their market in innovative ways.
In an article by Bob Weinstein, in the internet based
magazine, IT world, May 3, 2001 issue, the world's richest man — Microsoft's
Bill Gates is described as an extraordinary salesperson. In that article, Mr
Lohse, supposedly a pal of the world's most famous geek since Gates was a
teen-ager described him as an example of a brilliant salesperson.
According to him, "One of Gates's biggest
strengths is his ability to invent the future," Lohse explains. "That
takes innovative selling skills. Gates is a visionary who looked at the facts
today and said, 'Out of these possibilities, what can come true tomorrow?' Once
he did that, he knew how to commit himself and his company to making it happen.
This revelation may come as a surprise to many who may
think that even IT which is probably dominated by nerds would not require much
marketing. However the truth is that in every field, marketing is
required. 
Then why is there so much apathy about marketing jobs,
especially here in Nigeria?
The reason given by majority of workers is that the pressure involved in such jobs is not commensurate with the benefits of taking such job positions. According to them, amongst those we have interviewed in the
past, they are worried about working under targets and also that they are concerned about the harassment that they, [especially the females] may encounter when they go out on cold calls.
This is why when a variety of jobs are advertised,
only about 9% of the applications received are for sales positions while 91% is
shared between administrative and technical job positions.
This situation, that is, the apathy or fear of sales
job positions is really borne out of slothfulness on the part of the worker,
ignorance and lack of understanding. Such workers assume that every sales or
marketing job will leave you stressed out and a loser at the end.
However, this mind-set is completely wrong, because a
sales career offers the opportunity of financial success and provides a sense
of accomplishment and pride with each new sale. There are even some who see a
sales career as a career people pursue when they cannot secure mainstream jobs,
but there are many benefits and rewards to a career in sales that far outweigh
the often misrepresented view of this profession.
So, to correct this wrong mind-set, I will discuss
some of the benefits of sales career. It is important to be well informed
before making you career decision.
More Money; More Money
Though making money should not be the major objective
of a career it is critical, especially in an economy where inflation is high.
Regular salary will not pay your bills. With more income the worker will be able to afford basic needs of life. This is because as sales personnel, you stand to earn a dual based income structure, a basic and commission.
Social Value
A career in sales provides the opportunity to meet a
variety of people from internal stakeholders to product developers/suppliers to
clients. It is almost a guarantee that each day you will talk to someone new from a different walk of life that will teach you something interesting you didn't know about.
Flexibility
You determine you work rate and schedule. In some
organizations what is paramount is performance; therefore you are given the discretion to negotiate your working style and time so far you meet targets. Remember, a day in sales is what you make of it and there is little time for clock-watching and a nine-to-five mentality. A job in sales provides a freedom where you can generally structure your own day and manage your own time, whether you are in the office or out on the road meeting clients.
Personal Development
How come good sales people get to own their own businesses later on? It is because the sales role will require that you carry
out research often. This research entails; researching new clients, meeting with clients, nurturing relationships with existing clients or strategizing sales growth with internal stakeholders. All of these empower you with information that makes you a resource person and makes you relevance all the time.
Entrepreneurship Skills
Being in sales and managing your territory is like running your own small business while having the support and financial backing from an organization.  A sales career can provide you with the entrepreneurship and creativity of running your territory as a business where you are the CEO, marketing, sales and operations person.
Personal Fulfilment
In a sales position, especially if you are generating
results, you have a high level of accomplishment as you are directly the person responsible for making things happen. 
You also get the satisfying feeling of providing your customers with
products that they truly want and need and you had a large part in facilitating and meeting their needs.  Some jobs can
be really redundant and you might feel that you have not accomplished anything, but with a sales career, every sale is a direct result of your efforts.  Along with sales awards and rewards, your hard work is rewarded handsomely with commissions, recognition and etc.  You have a much higher level of control of your career when compared to many other career choices.
CONCLUSION – START THE SEARCH

Why continue to complain that the economy is bad and other such futile moaning? Become proactive or remain where you are and shut up. Otherwise, take the leap; leave your comfort zone. Enough of placing job security over job fulfilment. So, start the sales job search today. I am sure you would secure one faster than any other regular job, as few workers dare this arena. But before you begin, have this in mind; each sales career experience is uniquely different based upon the company you choose to work for, the products you sell and your personal sales skills.  This is an important factor to think about when deciding on a career in sales and to be aware of what you are looking for and what to expect.  The best way is to do research on your own to find out as much as possible before committing yourself to a job.

 
How do you go after my sales job?
The first step is to find out what you want, learn about the industry, the products, the people, culture with a goal of learning the good, the bad and ugly of the career opportunity.
I wish you good luck in your new sales career, for more on this contact me by email; Ifeanyi.nsofor@edensrpeople.com
Ifeanyi Nsofor
Consultant
Eden Solutions and Resources